Click here to join Neobux, the #1 PTC site with INSTANT payments!
It was months ago when I last posted my Neobux payment proofs and so I've got 3 of them from November and 2 in December.
My Golden membership will be expiring soon and I still haven't completely decided if I'll continue investing or what. But, if you ask me, I actually got my investments back even with just 200+ rented referrals and 70+ direct referrals now. So, I might upgrade again for $90.00. No plans EVER of upgrading to higher memberships since I don't really focus on gaining referrals like I used to. I might just postpone it for a couple of weeks since I'm planning on using my money for something else.
Another reason why I'm upgrading again is the trial-and-error phase of this making money online with Neobux is over. I now know what I should do to make the most out of my referrals and investments. I know, some of you might be saying, "Wow! A trial-and-error phase worth $90!?!". The thing is, I got my investments back. But, it's not as high as I wanted it because I was doing the wrong things during my first few months as a Golden member. I kept on following others' tips and methods of maximizing earnings, but eventually decided to follow my own path.
Some may argue that I'm not making the wisest decisions or I'm not doing it right, but, based on what I see and my experience, my technique works for ME. If you want to know more about that, read the first part and keep posted for the second and next parts.
Now, here are my last 3 payment proofs from Neobux. Click the images to enlarge or zoom in.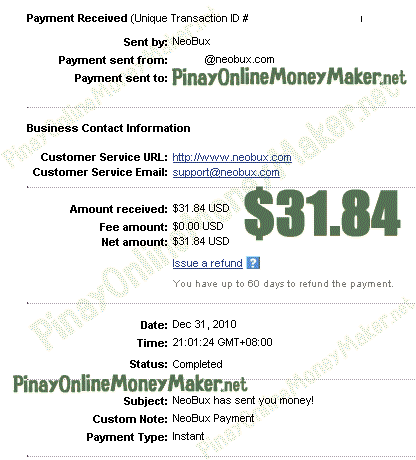 Keep posted for the second part of my guide on Neobux. Happy New Year, everyone! And I hope we all have a fruitful 2011!
Click here to join Neobux, the #1 PTC site with INSTANT payments!