Obviously, you guys already know that I make money online and from my blogs through advertisements. From time to time, I get direct advertisers contacting me about placing banner or text link ads on my blogs with a fee we have agreed on. And just yesterday, I got another email which raised suspicions that it could all just be a scam. It's from a representative of a certain Jino Agency who claims the ad is for Lacoste. Her name's Killian Blanchard. Here's a screenshot of the email:

It made me suspicious because, first off, it's for our food blog. Why would Lacoste be interested in placing an advertisement on a blog that's completely unrelated to fashion? I continued on to see what will happen, already wary that it's another one of those phishing scams. They said they have different ad banner sizes and would like to know the rates we offer for each.
By this time, I already checked their site – www.jinoagency.com.  I'm a web designer so I know that their site was pretty easy to come up with.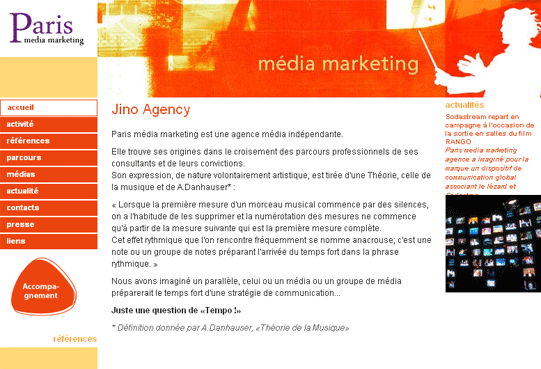 The site's language is in French so I had no idea what the contents were. I was hoping to see a list of accounts or brands they handle, but found none. I was hoping to translate their site to English using Chrome's integrated translate feature, but it wasn't an option.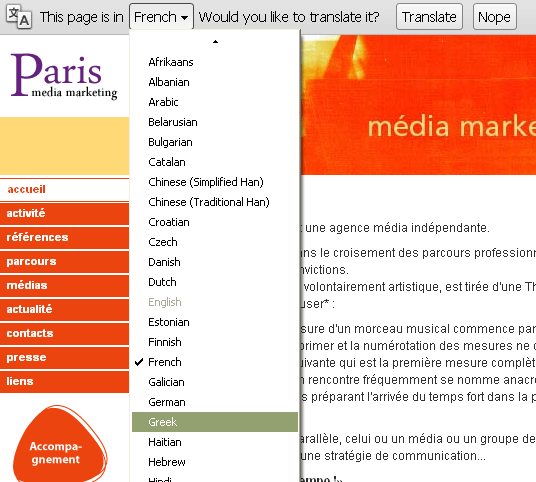 So, I ended up using Yahoo! Babel Fish which worked like a charm. The translation may not be perfect, but it's obvious that their contents don't sound like they come from an actual PR or advertising company.
I continued on to send them my rates to see if they would accept it. The thing is, I gave them very high ad monthly rates (scroll down for the screenshot of how much they're willing to pay for a month!). Surprisingly, they liked my prices. So, they continued on sending me instructions on how to publish the advertisement.
As it turns out, I need to login to their site with the info they provided and then install a plugin on our blog. The only time I installed a plugin was for a reputable third party ad network and I only have it up and running on THIS blog. I'm just not comfortable installing any script or plugin on any of my high traffic blogs, most especially our food blog.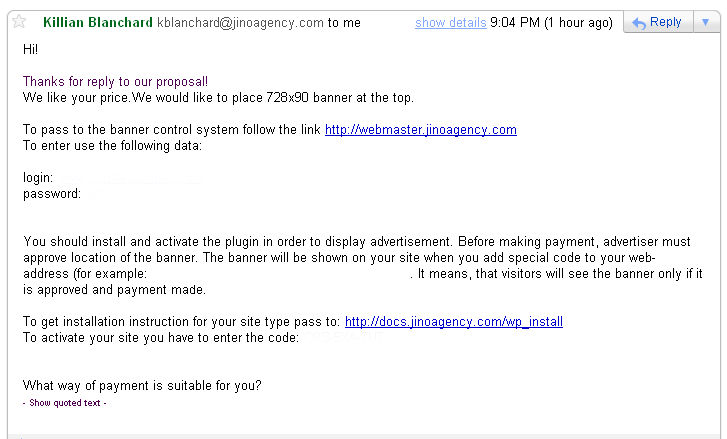 What I did next was to search Google for any post about them. I only found one link, but it was filled with all the necessary information that would conclude it was indeed a scam – Devious Scam Aimed at Bloggers.
The author and a couple of the comment posters on this certain blog post were very suspicious too of this ad placement. Having been very careful with putting malicious scripts on my blogs, I always make sure to check the code of any plug-in I install on my WordPress blogs and I do my research first. This time, I guess it more than paid off. And I know how important it is for me to share this to everyone just in case they got the same email and were hoping to earn a decent amount of money from these scammers.
Apparently, based on the comments, they won't pay you afterwards. The codes may seem harmless now, but malicious plugins can give access to your WordPress blog or site to unauthorized people. So, you have to be VERY careful with what plugins you install.
Here's a screenshot of the site they asked me to log into:
And the instructions on how to install the plugin:
Did they contact you too? If yes, please share your experience. And please, be careful. There are a lot of online scammers out there now and they get more creative everytime.
I'll be posting more about dealing with direct advertisers here next time. Stay tuned!
———————————————————-
UPDATE: A fellow blogger mentioned about Mana Agency, a company one of the comment posters on the blog post I mentioned earlier revealing this as a scam too. Well, look at their website… doesn't it look so fricking familiar?