Click here to join Adgitize
Below are 3 of my payment proofs from Adgitize for the past 3 months. Now, you might be wondering how I managed to earn over $14.00 in a month from Adgitize. Here are the reasons why and you might get some tips on how to increase your daily Adgitize points, too:
In November and first weeks of December, I was advertising 3 blogs on Adgitize. Because of this, I earn a total of 200 advertising points for all of them. Now, I've only got 2 ads running on the network, that's 150 ad points. The other ad (for Certified Foodies) is running on my brother's Adgitize account. He wasn't able to maintain it so I'm advertising that blog again on my account.
I am actively clicking ads daily (51 for advertisers, 100 for regular members). That's 100 click points. Well, there are days though that I'm on lazy mode and neglect this. But, as much as I can, I click ads.
I'm publishing posts on my blogs (I've got 7 on the Adgitize network) daily to get the 100 article points. There were a couple of days in November and December that I failed to post that's why the payout wasn't as much as compared to November (October earnings).
I've got Adgitize ads running on ALL my blogs. So, I get 100 Ad View points and 60 Page View points daily.
I'm not that active in the forums. But, I try my best to post at least once. You can get 100 points daily for posting in the forums, so try to be active there as well. Plus, you get to meet a lot of fellow bloggers which may generate some page views, too.
I'm pretty happy with how my blogs are performing on the Adgitize network. It did get my new blogs out there and I've gotten readers and loyal visitors from advertising and being active on their network.
Now, here are my latest payment proofs from Adgitize: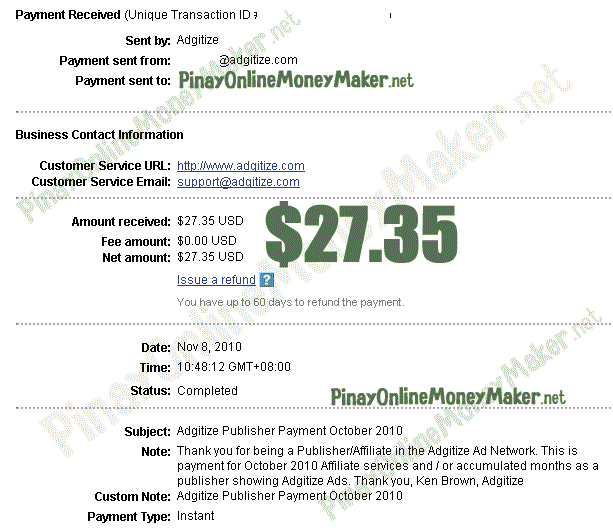 November 8, 2010 (click to zoom)
December 7, 2010 (click to zoom)
 January 10, 2011 (click to zoom)
If you're not yet a member of Adgitize, click on the banner below to join:
You don't have to be an advertiser to make money. You can simply be a regular member and just make sure you put up the Adgitize ads on your blog/s. They pay through Paypal monthly.