I've been a member of Hits4Pay for the longest time (since 2008) and I really thought they'll never pay me. But, guess what?! Yesterday, I got this in my Paypal account: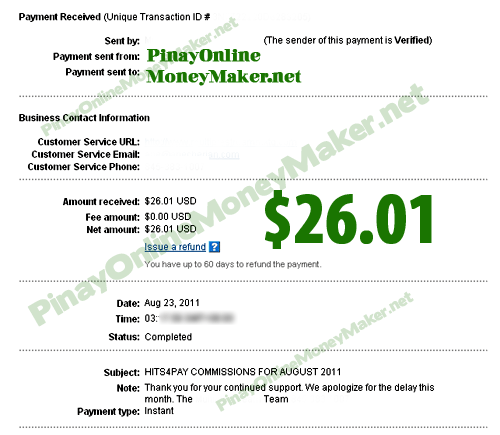 Yes, dear. That's my first Hits4Pay payment proof of $26.01. That only means Hits4Pay is a legit and paying site!
Now, don't get your hopes up too much. Like what I've said, I've been with them since 2008 and I only got paid, what, after almost 3 years?! It's simply because I don't get as much ads from them as other PTC sites. I consider myself lucky if I even get one ad in a month from them.
Hits4Pay paid emails are mostly targeting members in western countries, particularly in the USA. And I'm just glad that I got myself some direct referrals, otherwise, I'd be 90 before I even see a cent from Hits4Pay.
By the way, they redesigned their website. They look cooler now. I just wish we'd get more ads though.
If you're not a member yet and you'd like to try Hits4Pay, click on the banner above or here to sign up under me (please? :)).
Also, if you've noticed for the past months, I haven't posted any new payment proofs here. I decided to quit doing that and focus more on actual contents on this blog. But, I'll try my best to share with you some proofs that I do make money online.
A lot has happened recently which caused my absence here and on my other blogs. Don't worry, all positive.
But, I'm trying to my best to still keep all my blogs (yes, I've got 6!) updated as much as I can since I know there are people who do read what I've got to share and write about.
But, I'd be focusing more on other ways you can make money online other than PTC sites because, let's admit it, it's really time-consuming clicking all those ads. Good thing there are some that are still existing that can truly be trusted and even offer unlimited referrals. You can find their links on my sidebar.
I'll be updating the list of my trusted sites. So, keep posted for more updates right here. And if you have any questions or something you'd like me to try before you do, let me know at the comments section, aight?